Amazing
Raspberry & Cacao Toasted Clusters
Ca-CAO, Ca-CAO – is the amazing dawn call of the shy, Chocolate Crested Bird of Paradise, found only in the jungles of Ghana. When this extraordinary bird has finished its breakfast, it blows raspberries – which, considering it doesn't have lips, confuses ornithologists and David Attenborough alike. At Hubbard's, as well as making rather tasty breakfast cereals, we like a spot of ornithology ourselves, like bird watching and indulging in juicy raspberries which gave us a flash of inspiration. What those tart berries needed was a hit of cacao! So if you're ready to answer the call of the wild, grab a spoon and prepare to take flight today.
Product Information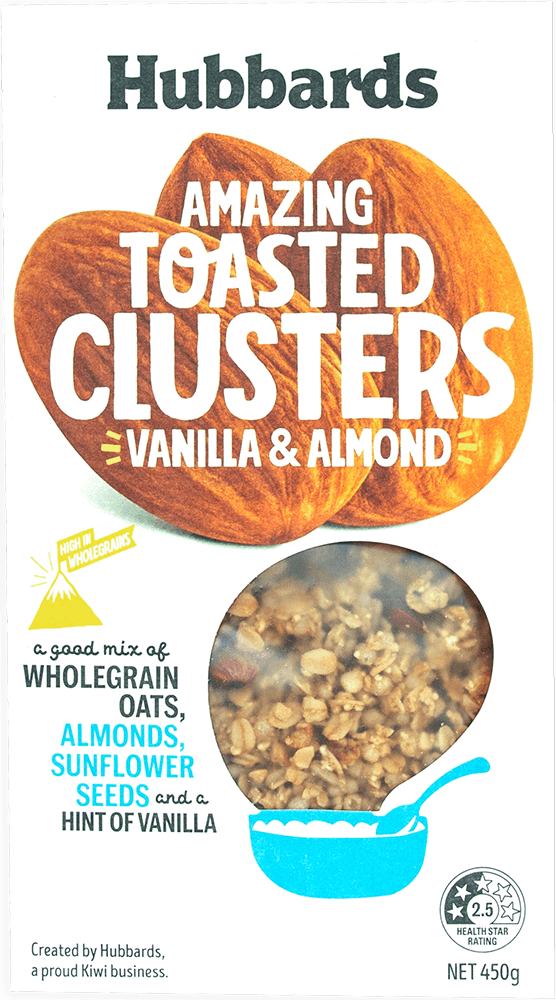 Amazing
Vanilla & Almond Toasted Clusters
It doesn't take a genius to know how good vanilla is – as anyone who has ever tried it will testify to. But at Hubbards we always like to think 'what if'? How can we take something brilliant and make it amazing? Crunchy almonds? Sure! Coconut? Why not! Amaranth? Super trendy right now (and a great scrabble word) – sprinkle that in. Sounds yum, and it is. Luckily, the team didn't stop there and they turned our muesli into delicious clusters. Genius is what it is! This is the perfect reminder to embrace this 'what if?' mindset. Great things are about to happen. Go you young thing.
Product Information
Amazing
Cinnamon & Cashew Keto
There are days when a full-blown, cooked keto brekkie is an easy do. But when time is tight and cooking isn't an option, things can reach lights-flashing, sirens-wailing Breakfast Critical. Which is why, when it comes to the crunch, it helps to have your morning assistant (us!) do the hard work for you. This box has more of the crunch you love, with only a little bit of sugar and carbs you don't. It's packed with keto-loving fats and protein without having to break an egg. And the best bit: it tastes like cinnamon toast! So grab a bowl – or if you're like us, just stick your hand in!
Product Information